5 HP Piston Air Compressor CR5C - Contractor Series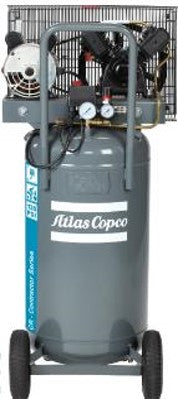 Hot
New
In stock
Pre-order
Out stock
5 HP Piston Air Compressor CR5C - Contractor Series
Shipping time: 2 weeks if available in stock.
PRODUCT INFORMATION
Maintenance & Service plans
Specifications
Warranty
CUSTOMER REVIEWS
PRODUCT INFORMATION
Description
The Contractor Series provides affordable compressed air in a small, lightweight package. The low-profile cast iron design, semi-pneumatic wheel, heavy gauge wire belt guard and rugged pump design provide the ideal solution for small, portable applications.
Features & Benefits
Single stage units
Fully enclosed belt guard

Low-profile cast iron design
Heavy gauge wire, fully enclosed belt guard
Rugged pump design
No start-up kit required
Maintenance & Service plans
Atlas Copco service solutions keep your compressed air system up and running efficiently and reliably.
Discover the maintenance solution that best fits your needs.
Specifications
| | | | | |
| --- | --- | --- | --- | --- |
| | HP | PSI | CFM@100 | CFM@175 |
| CR 5 | 5 | 175 | 17.9 | 17.2 |
| CR 7.5 | 7.5 | 175 | 23.8 | 22.6 |
| | | | | |
Warranty
Stationary oil-injected rotary screw compressors (G,GX, GA, GA+ including VSD) up to 110kW
Standard Warranty:
2 years from start-up for Electric Main Drive (motor) and Variable speed Drive (VSD)
12 months from start-up or 18 months from shipment, whichever comes first for entire unit (bumper to bumper)
Extended Warranty: 5 years from start-up for Screw Element
Other compressor types and sizes, vacuum pumps, gas generators, dryers
Standard Warranty: 12 months from start-up or 18 months from shipment, whichever comes first
Parts and accessories
Standard Warranty: 3 months from purchase
Related products
Our sustainable innovations
We have set targets for reducing the carbon impact of new products. There is also an increased focus on designing products to maximize their potential to be returned, refurbished and resold as used equipment. Atlas Copco is committed to developing solutions that support global sustainable development by increasing our customers' productivity, reducing cost and helping them meet their sustainability ambitions. Energy consumption in the use phase of our products has a significant impact on cost and carbon footprint for our customers.